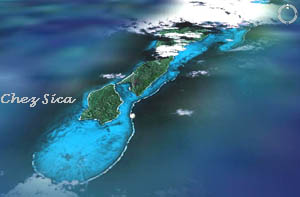 Sainte-Marie is a small paradise on the north-east coast of Madagascar.
Nattes Island is at the south of Sainte-Marie.
This land has no electricity, energy is given by solar panels and generators, usually from 18 to 22 heures 30 pm.
There are no cars on this island, so it makes real calm and serenity.
The bungalows are on the beach, on the west coast of Nattes Island and offer to you marvelous sunsets everyday on the lagoon.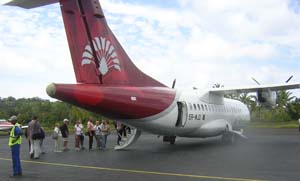 You will arrive at Ivato-Tananarive airport, from where you can take a flight to Sainte-Marie, there is a plane everyday.
The airport of Sainte-Marie is at the south of this island, close to Nattes Island.
You can also come to Sainte-Marie by the road, going to Tamatave with bush-taxi (about 8 hours)
Then take another bush-taxi until Soanierana-Ivongo (3 hours), where you will find boats companies to cross the sea until Ambodifotatra.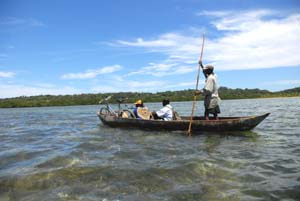 These companies can drive you from Tamatave with their regular bus lines.
The cost of sea crossing is 50 000 ariary . From Ambodifotatra harbour to the south point, a taxi will cost 20 000 ariary, a tuk-tuk, 10 000 ariary.
A boatman will bring you on Nattes Island for 2000 ariary/pax. He can also bring you with his pirogue directly to the Sica's hotel for 10 000 ariary.
Otherwise a path is going in the centre of the Island through a luxuriuous vegetation until the bungalows, about 30 minutes walking if you ave not too much luggage.
Indicative prices, can change depending on money change and local inflation.